From October 14 to 21, Mr. Rongyun JU, Deputy Secretary General of China Highway & Transportation Society (CHTS), heading the Chinese delegation, attended the IBTTA (International Bridge, Tunnel and Turnpike Association) International Summit in Rome, Italy and visited the Association of French Motorway Companies (ASFA) in Paris, France.
At the IBTTA Rome Summit, Mr. JU held talks with Ms. Emanuela Stocchi (Director of International Affairs, AISCAT and IBTTA President, Rome, Italy) and Mr. Patrick Jones (Executive Director and CEO, IBTTA, Washington, DC).
Mr. JU introduced China's expressway construction achievements and presented the grand occasion of the inaugural World Transport Conference (WTC) held in Beijing in June this year. And he expressed heartfelt thanks to IBTTA for its attendance and support to WTC. Mr. JU further put forward one proposal for jointly holding one "Toll Road Forum" with IBTTA in 2018 WTC.
Ms. Emanuela Stocchi and Mr. Patrick Jones expressed their admiration for the remarkable achievements of the 2017 WTC, and that IBTTA would continue to invite representatives of IBTTA members to participate in and support the 2018 WTC. Regarding jointly holding the "Toll Road Forum", they showed high interest and it was agreed that IBTTA and CHTS would keep in positive contact and further explore in this regard.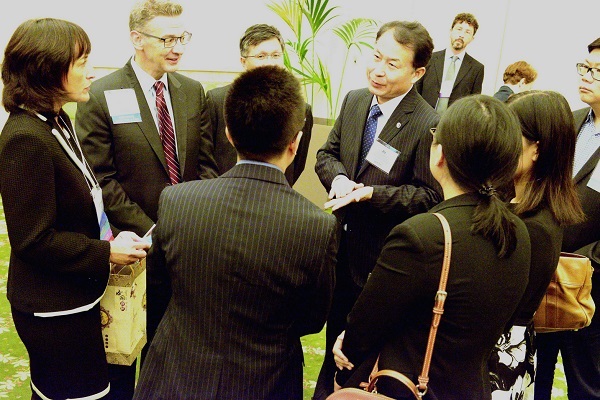 On October 10, Mr. JU leading the Chinese delegation met with Mr. Christophe Boutin, Executive Director of ASFA and Ms. Malika seddi, Director of International Affairs of ASFA in ASFA's headquarters in Paris.
Mr. Christophe Boutin welcomed the Chinese delegation and gave a brief introduction on the development of ASFA. And he also expressed the intention to strengthen cooperation with CHTS. Ms. Malika seddi introduced in details the French Toll Road system and ASFA operations.
Mr. JU introduced the basics of CHTS and put emphasis on the great achievements of 2017 WTC and the updates of 2018 WTC. He invited ASFA to participant in the 2018 WTC next year in Beijing, during which a cooperation agreement could hopefully be signed to consolidate and deepen the two sides' cooperation in expressway operation, investment, management and services. Ms. Malika seddi made a positive response to this invitation and they would report to the Board for further deeds to be taken.